Foundations to Growth Network
November 6 @ 11:00 am

-

December 11 @ 3:00 pm

Free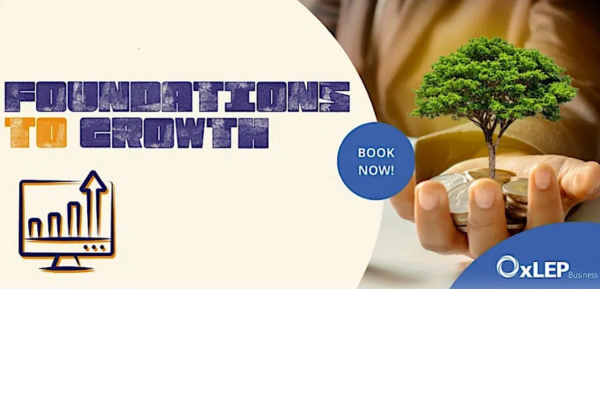 OxLEP Business are inviting ambitious and passionate Start-Up and Growth Businesses to join the Foundations to Growth Network.
Overview
OxLEP Business are inviting ambitious and passionate Start-Up and Growth Businesses to join the Foundations to Growth Network. Participating will help you gain new perspectives, inspire new ideas and change your way of thinking. It can also help you form new contacts, build networks and gain valuable professional and personal support.
The workshop will be delivered by two of our experienced business experts, providing practical content to help you learn and make progress, alongside a group of supportive peers.
You must be an Oxfordshire Business to apply, trading for at least 6 months.
What do the sessions cover?
Run over 6 weeks, the sessions cover:
• Understanding strong foundations for growth;
• Collaborative problem solving, knowledge sharing and developing softer skills with peers;
• Exploring the next steps for growth.
The group will meet on zoom on Mondays between 3pm – 5pm weekly starting on Monday 06 November until Monday 11 December.
What will I gain?
• Access to a new support network
• New tools for collaboration
• Improved leadership and management skills
• Understanding of the foundations for growth
• Inspiration and motivation to grow
Eligibility
• You must be an Oxfordshire business, established and trading for 6 months
• An ambition for growth / innovation
• Must be able to commit to all the sessions
Presenters
Ant Parsons is a business and environmental innovator, who uses his creative leadership to help organisations think differently about problems and opportunities. He facilitates a wide range of business support groups in Oxfordshire and Worcestershire and has worked with hundreds of businesses in the last 2 years. He also works on a broad range of projects across the research, technology, business and impact landscape in the UK and overseas. Ant has a passion for supporting sustainable business growth in Oxfordshire and an in-depth knowledge of the business support community.
Paul Holmes is a degree qualified Manufacturing and Mechanical Engineer with 25+ years working in FTSE100, technology and engineering companies and at a senior level in Local Government. Paul specialises in transforming businesses focussing on growth, from set up, to implementing change. He helps them to overcoming challenges, implementing business systems and management processes, and supports manufacturing, engineering, and technology commercialisation. He can provide advice on governance, challenge and strategy support for owners and senior business leaders.
Minimal Financial Assistance (MFA) scheme
The Growth Hub programme operates a Minimal Financial Assistance (MFA) scheme. All SMEs which receive support under this programme are being aided under the UK Subsidy Control Act (2022) and The Subsidy Control (Gross Cash Amount and Gross Cash Equivalent) Regulations (2022 No. 1186).
MFA allows a beneficiary to receive up to £315,000 of Subsidy over a three-fiscal year period (i.e. the current and previous two fiscal years). The value of MFA given is the gross cash amount or the gross cash equivalent of the subsidy. The MFA value of this event is £4338 if all sessions are attended.