The Speaking Retreat
August 23 @ 8:30 am

-

5:00 pm

£495
Event Navigation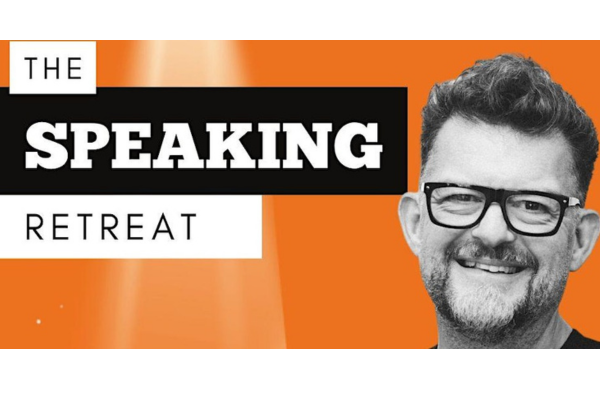 About The Speaking Retreat
Do you KNOW you have a message people should hear?
Do you absolutely know that you can help other people – and you need to find the audiences who will listen to you?
Or are you getting great feedback from your presentations at networking and business events – and want to learn how to find clients who will pay you to speak?
Or maybe you're already speaking, and want to find more clients, and better clients too?
This one day course – The Speaking Retreat, delivered live to only eight attendees, will help you develop your presentation skills and, crucially, show you how and where to find paid speaking gigs too.
Are you already speaking – but not being paid?
Creating your keynote, the presentation you'll be known for, is just part of the process. There are thousands of amazing speakers out there who aren't being paid! That's why we'll spend the second half of the day looking at the business of speaking, and where and how to find the right clients for you, willing to pay you to educate, inspire and entertain their audience.
Here's what we'll cover:
– How to build your reputation and profile with the right people.
– Ensuring that your audience know exactly what you stand for, and why you're the right speaker for their teams, their event, or their audience.
– Let's build a presentation for you which perfectly captures the messages you know your audience will benefit from.
– We'll take your audience on a journey from understanding the problem they need to solve, to coming away at the end with the answers they need.
– We'll ensure that the people who book speakers know exactly what they're getting when they book you, and know exactly why they should book you.
– It is a massive deal to put someone on stage for an annual conference or major event. So let's help you to build the trust with your potential clients, so that they have that trust in you which leads them to being confident to book you.
– Then, we'll train you to deliver, so that clients rave about you, and more clients want to book you as a result.
– I'll show you how to make money by being paid to speak – and turning your presentation into other products too.
You see, as well as being paid to deliver keynotes at conferences and events, it is also perfectly possible to create courses, workshops and other products from your knowledge, that you can also be paid for.
As well as being a paid keynote speaker, I also write books, run retreats and workshops (like this one for example) and am paid to run training events for the companies I work for, expanding on the issues I've touched on in my keynote. You'll learn how to build the value around everything you do, to get paid for everything you do.
Virtual – opening up the world from your desk
I have been paid for many virtual events over the last few years, and that world is open to you too.
Sure, they don't pay as much as 'real life' events, but to be able to speak to a captive and appreciative audience anywhere in the world, and then 45 minutes later be able to come downstairs and make a cup of tea, sure has some advantages over the travel and the time taken to get to face to face events.
Build your reputation as a virtual speaker, and you'll open up even more opportunities – and at times to suit you too.
Promoting yourself – being your own agent
Learn how to build your own PR and publicity, putting yourself in front of the people who actually book speakers. You'll find out exactly how I've been able to get booked by major multinational companies directly, and not through an agent.
Being brilliant at what you do is one thing, making sure that other people know about it and understanding how to turn that into paying clients, is exactly how we'll finish the workshop The Speaking Retreat.