Six Step Marketing Plan
April 21 @ 9:00 am

-

9:30 pm

Free
Event Navigation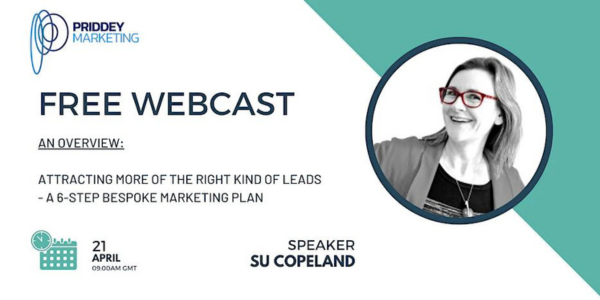 2023 Marketing Strategy
If you're looking at your 2023 Marketing Strategy and for quick and easy insight on where to start, this is the webcast for you.
We'll be giving you an overview of the Six-Step Bespoke Marketing Plan process; where you'll learn how to create a plan that attracts more of the right kind of leads to support your sales activities.
Our webcast will be presented by Su Copeland, who knows that there's no 'one-size-fits-all' solution. She will share an overview of the process she has developed through working with 100's of MDs and CEOs, predominantly in technology and science-based organisations.
The six-step process provides the framework to quickly create a plan with actions, and provides the foundation for your future marketing planning.
Who this Webcast is for?
MDs and CEOs, particularly if you work in a STEM-based organisation.
Why attend?
Time isn't on your side. You have colleagues, clients, prospects, investors all impatient to get to the next level and wanting results fast.
If you had unlimited time for research, more people, and funds, then you could probably do this yourself. You need a quicker, practical and affordable solution.
You are frustrated that your marketing isn't working and only getting the occasional referral from word-of-mouth contacts.
You make the most of the leads coming towards you, but you don't feel in control of the process and flow of leads.
You know you should be more proactive with your marketing but you're not sure what you should be doing to drive more leads.
There is a lot at stake for you, having already invested a lot. You need a workable solution to get your idea to a broader market, fast.
You might already know what you need to do, but you've not managed to make it happen yet.
You need a clearly defined plan which shows immediate next steps to drive the right type of leads.