Oxford Innovation Space Wellness Raffle
Event Navigation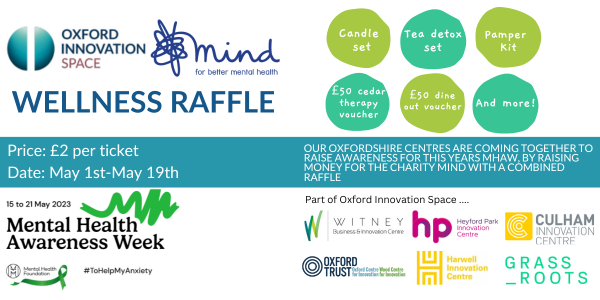 Some of the centres from Oxford Innovation Space are running a wellness raffle from the 1st to the 18th of May to raise money for the charity Mind, in support of Mental Health Awareness Week commencing on the 15th of May, with the theme of anxiety.
Mind is a UK-based charity that provides advice and support to anyone experiencing mental health problems. They offer a range of services, including helplines, support groups, and online resources, to help people manage their mental health and wellbeing. Mind also campaigns to improve public understanding of mental health issues, and to ensure that people with mental health problems are treated fairly and have access to the help and support they need. By participating in this raffle, people can make a positive impact on the lives of those affected by mental health issues, while also having the opportunity to win some amazing prizes.
Some of the centres from Oxford Innovation Space are collaborating by donating prizes for the raffle and selling tickets to all of their members. The centres who have signed up to donate and promote this raffle are The Witney Business and Innovation Centre, Harwell Innovation Centre, GrassRoots Innovation Centre, Culham Innovation Centre, Heyford Park Innovation Centre, Wood Centre for Innovation and the Oxford Centre for Innovation. This shows the dedication of Oxford Innovation Space and its community to support mental health and wellness, and to help raise funds for an important charity that makes a real difference in the lives of those struggling with mental health issues.