High Performance Workshop
September 21 @ 11:00 am

-

12:30 pm

Free
Event Navigation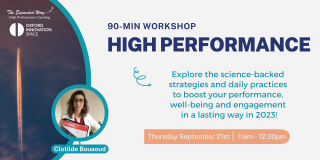 You know how things get way more difficult when you and your team are constantly feeling burned out, frustrated, or stressed?
The entrepreneurship world is exciting, no doubt about it!
And it is also high-risk, fast-paced, and demanding every single day.
The only way to build sustainable growth and stay on track?
Keeping yourself and your team at your best – sane and fully engaged in the process!
If you feel like 2023 should be a year of "not riding the hamster wheel again" for you and your team…
And you'd love to pause and reflect on how to do that exactly…
Join us for a 90-min interactive session where we'll dive into the best approach to build higher levels of performance in a sustainable AND enjoyable way.
We'll talk about:
👉 What scientific research has to say about reaching and sustaining high levels of performance
👉 The 6 fundamentals pillars to focus on all year long
👉 Simple strategies and daily practices to boost your performance and well-being right away
There are no good reasons for you and your team to feel drained, stretched, and constantly running everywhere again in 2023.
When you could instead be focused, productive, and energized by simply being more deliberate about your performance approach!
You know what to do!
Grab your seat and see you on September 21st.
Limited tickets available.
(PS: Pizza will be provided)
**************************
Meet your host
Hello, I am Clo, coach, entrepreneur and founder of The Expanded Way.
I am one of the 1000 elite coaches in the world certified by The High Performance Institute, which led the world's largest scientific study to date on high performers and identified their secrets to succeed on the long-term.
Prior to taking a bold lead toward entrepreneurship and coaching, I built a 10-year career in global companies in the fast-paced FMCG industry. Starting with a PhD in physical chemistry, I worked as an innovation scientist for a few years before following multi-disciplinary training in sales, marketing and operations.
My mission today – helping driven entrepreneurs & businesses build sustainable and enjoyable success, without the doubts, frustration or burnout.